No Priming

.

No Sanding

.

No Stripping

.
Paint furniture the colors of your dreams in four easy steps without all the prep. Start today with BB Frösch.
Get Yours Today
thefroscheffect [th uh fröSH ih-fêkt]
noun
1. the result of leaving furniture and people better than we find them.
With her talent and generosity of spirit, she has thefroscheffect on everything and everyone around her.
About Us

Paint More

.

Prep Less

.


Makes paint stick to any surface

.
Wood
Tile
Metal
Laminate
and more!
Shop Now
●
●
●
Black Friday Deals
Save up to 75%
$99 Kits
$25 Medium Paint Transformer
B2G1 FREE Finishing Wax
B2G1 FREE Paint and Wax Brushes
Courses & Ebooks 75% Off
FREE Shipping on Orders $150+
●
●
●
Cyber Monday Mania
FREE Paint Transformer
Unleash your creative spirit with a complimentary Paint Transformer with purchase.
All Courses & Ebooks 75% off
Free Shipping on Orders $150+
●
●
●
Shop By Featured Collection
.
●
●
●
Don't Settle
.

Create Your Way

.
●
●
●
New & Improved Starter Kit
$139.95 - $163.95
FREE ONLINE COURSE WITH PURCHASE ($79 VALUE) FOR A LIMITED TIME
Dive in to your furniture refinishing journey with the new and improved BB Frösch Starter Kit--not only does it have everything you need to get started, it includes enough paint transformer to FINISH up to sixteen projects! Or, if you've got a bigger project like a kitchen in mind, you can mix up to a gallon of paint.
●
●
●
Paint Without The Hassle
.
BB Frösch Paint Transformer is the 100% natural, affordable, and premium alternative to pre-mixed chalk and mineral paint.
Add to ANY brand/ANY color paint to get ALL the benefits of pre-mixed chalk/mineral paint for transforming furniture, cabinets, and more!
●
●
●
Don't Miss the Latest Tutorial
.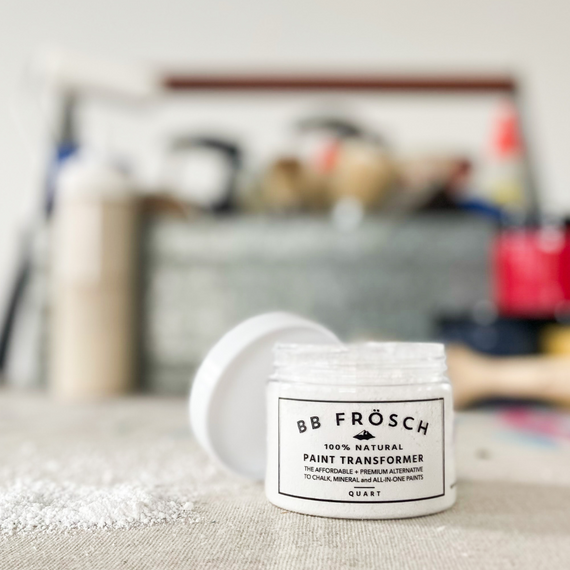 Not one of the tools I've collected over the years holds a candle to my BB Frösch Paint Transformer when it comes to saving TIME, saving MONEY, and providing VERSATILITY
...Had I not discovered BB Frösch Paint Transformer, it would have been my first and last project. Fortunately, this magic powder came into my life and I have since refinished hundreds of pieces. Thanks to BB...
●
●
●
Paint More
.

Prep Less

.
UNLIMITED color choice.
Makes paint stick to any surface - wood, tile, fabric, metal, laminate, and more! WITHOUT sanding, priming, or stripping!
Variety of finishes - shabby chic, antiqued, smooth and modern, and more!
All Natural!
Seriously, I can't believe how easy it is to use. The instructions were simple and I started painting in about 10 minutes.

S. Truesdale
The price of this product is totally within my budget AND NO SANDING!!! WHAT!? WHAT!? You had me at the no sanding part!!! Then, add in budget friendly and I'm sold.

A. Jenkins
This is the first time working with your product and I am HOOKED! The powder provided great coverage and was so easy to mix up

E. Ross